Bellator bantamweight champ Eduardo Dantas is all that and then some. On Friday night's Bellator 111 event, the Season 10 heavyweight tournament quarterfinals got underway, and the prelims saw an awful lot of quick and violent endings, but ultimately the show was all about main eventer Dantas defending his belt against challenger Anthony Leone – which the Brazilian did in glorious submission-perfection fashion.
Thanks to Bellator's 2013 Summer Series, and the 135-pound mini-tournament that transpired, Dantas' next test was to be against Rafael Silva. But Silva was sidelined with an injury, so taking his place was runner-up Leone, who'd lost to Silva via decision. Was Leone a worthy challenger to Dantas' belt? Well, in the opening round of their Bellator 111 clash, Leone did manage to get the Nova Uniao export down early and hold him there for the duration.
However, if the American had taken the first because of his wrestling skills, those same skills seemed to fail him in the second round. After eating countless jabs, Leone finally committed 100% to taking his opponent down – which was apparently too much of a commitment, as Dantas was able to turn that effort into one of the sweetest, slickest transitions into a submission we'll probably see all year.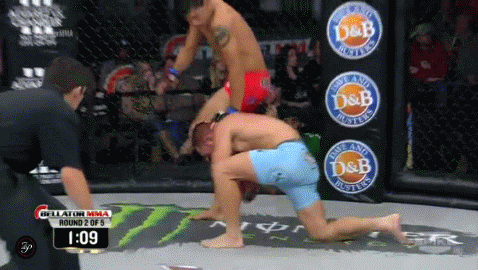 If he wasn't already established as one of Bellator's best (and yeah, he was), Dantas' badass dispatching of Leone pegs him as one of the top guys in the organization in any weight class.
In heavyweight tournament action, UFC veteran Lavar Johnson redeemed himself for getting knocked out in 23 seconds in his Bellator debut. Surviving Ryan Martinez's best efforts on the ground, Johnson opened up a can of whoopass and got the TKO – which is pretty much the Johnson we've come to know over the years.
Kickboxing Mighty Mo and Peter Graham has a UFC 1-esque bout complete with awful, awful grappling. Mighty Mo won via submission and advances in the tournament, but man, I wouldn't call what he did winning as much as I'd call it "yuck".
Russian Blagoi Ivanov beat about ten years off of Rich Hale's life, and Alexander Volkov apparently punched out Mark Holata's eyes, so there's all your heavyweight quarterfinalists.
With 111 events under their belt, Bellator has definitely hit their stride. And if they can keep our Friday nights full of the kind of awesomeness champs like Dantas are capable of delivering, they'll remain firmly entrenched in their spot as the number two MMA promotion in the world.
Full results:
Eduardo Dantas def. Anthony Leone via Submission (Rear Naked Choke) at 2:04, R2
Lavar Johnson def. Ryan Martinez via TKO (Punches) at 4:22, R1
Mighty Mo def. Peter Graham via Submission (Head/Arm Choke) at 2:31, R3
Alexander Volkov def. Mark Holata via TKO (Punches) at 1:21, R1
 Blagoi Ivanov def. Rich Hale via Unanimous Decision
Cortez Coleman def. Daniel Miller via Verbal Submission at 4:49, R2
Javy Ayala def. Eric Prindle via TKO (Doc Stoppage) at 2:05, R3
Abdul Razak Alhassan def. Matt Jones via TKO (Punches) at 1:23, R1
Brent Primus def. Chris Jones via TKO (Punches) at 1:45, R1
Chris Gutierrez def. Justin McNally via TKO (Punches) at 2:50, R1